Have an Account?
Log In
Head Graphene Radical Midplus Racket Review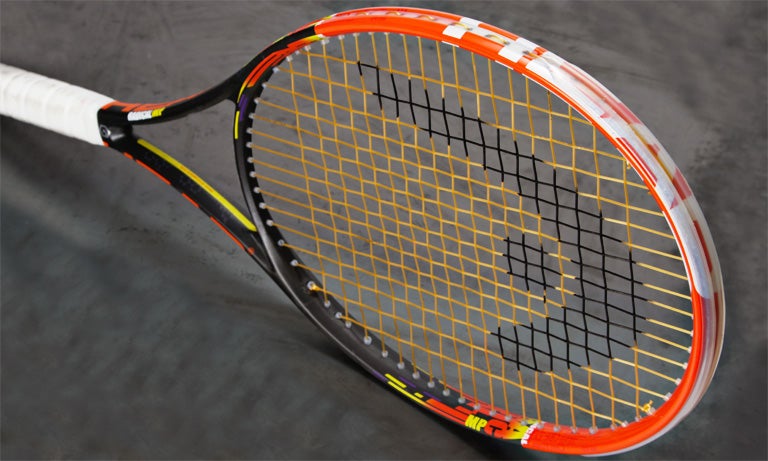 Upsides
More power than previous versions
Maneuverable
Spin friendly
Downsides
On the light side for advanced players
Summary
The Head Graphene Radical Midplus boasts power and maneuverability. Head introduces a new dynamic 16x19 string pattern in the Graphene Radical Midplus that is tighter in the middle and more open on the edges to ease the shock and increase the power on balls hit outside of the sweetspot. Proving to be more powerful than its predecessor, the YOUTEK IG Radical, the Graphene Radical Midplus allowed all of our playtesters to hit big groundstrokes from the baseline. However, our testers had mixed results when they weren't hitting groundstrokes. Some found this racquet to be a maneuverable, crisp volleying machine, while others felt this frame didn't have enough weight to volley effectively. When serving, some of our playtesters benefited from the lighter weight and found ample access to spin, while others thought the racquet lacked the mass to really get their serves going. All of our playtesters agreed that this powerful racquet was quick and easy to use when returning serves. If you enjoy maneuverability in a quick, precise racquet, the Graphene Radical Midplus could radically change your game for the better.
Overall - Score: 81/100
Groundstrokes – Score 85/100
Right off the bat, our team of playtesters found the Radical Midplus to have a different feel than the racket it replaces. Power was notably present in this update, as well as a new "dynamic" string pattern that creates less shock and more power on off-center hits. All of the players found this frame easy to hit with from the first ball, and although the feel was different, they all found their comfort zone.
Volleys – Score 76/100
There are some mixed opinions when it came to volleying with the Graphene Radical Midplus. The lighter weight tripped up some of our playtesters, but there were no complaints when they made clean contact in the center of the sweetspot. Hightlights were that it was fast and easy to maneuver, although there were some complaints with the control outside of the sweetspot.
Serve – Score 81/100
Most of the playtesters agreed that this racket added variety and pace to their serves, although some of the team found that the weight made it just a little too light to penetrate properly on big first serves. The light weight and easy-to-swing frame kept the team happy, as well as their surprise at the solid feel despite the lightness of the racket.
Returns – Score 83/100
The team found the rackets precision and maneuverability made returning simple and effective. Controlling and spinning the ball was easy for most of the players, and while they found the racket to be more effective when used with a faster swing, most of the players felt they were able to really whip the frame through for some big flat and topspin returns.
Likes:
Chris - "I liked the response and feel when I was swinging quickly and hitting with pace and topspin."
Brittany - "I loved the power, spin and maneuverability. It was a really easy racquet to use."
Sean - "The racquet performed extremely well in my favorite areas, which tend to be the ones that involve instant offense. I had the ability to swing out on groundstrokes and serves without fear of overhitting. Overall - a fairly stable, yet lightweight racquet, with a maneuverable feel."
Karly - "It is one of the most user-friendly racquets I've tried. No adjustment period, easy to swing, good power and control, and great access to spin -- talk about a recipe for an easy-to-use racquet!"
Dislikes:
Chris - "The racquet was too light for my serve, and I need more weight to improve the stability on shots with a slower swing, such as volleys, touch shots and chip returns, etc."
Brittany - "My very small dislikes were that I thought the racquet got pushed around a tiny bit and there was a drop in power on volleys hit outside the sweetspot."
Sean - "I would have liked this racquet better with a slightly heavier overall feel, especially when having to deal with heavy shots from my opponent. The unstable feel was far more evident on slower paced shots."
Karly - "Sometimes the racquet felt a little too light and needed more plow through. A little more weight would also help improve the stability."
Comparing it to other racquets they've used, our testers said:
Chris - "I felt like this racquet lacked some of the solid feel of previous Radicals. It definitely came through the ball faster and offered better topspin, but it was not as stable at net or as solid on a touch shot. I've always found Radicals to be good platform racquets for adding weight, none more than this one. In that regard, I'd compare the Graphene Radical Midplus to the Tecnifibre TFight 315 LTD and Donnay X-Dual Silver 99, both of which I'd customize with weight."
Brittany - "Compared with the previous version, the YOUTEK IG Radical MP, I found the Graphene Radical Midplus to have the power that I felt was lacking in the past. I thought the control and maneuverability were very similar between the two racquets. I would say that the IG version had a tad more stability."
Sean - "There is nothing that quite compares to the solid feed and lightweight swing of the Graphene Radical Midplus. When I first hit with this racquet I was reminded of other light, whippy racquets like the Wilson Juice 100 and the Yonex VCORE 100S. In reality, I felt far more confident using the Radical against harder hitters than any other racquet with similar specifications."
Karly - "The Graphene Radical Midplus reminded me of a more control-oriented and stable Head YOUTEK Graphene Speed MP. They're both comfortable and easy-to-use racquets."
Playtester Profiles:
Chris: 5.0 all-court player currently using the Wilson Six.One 95S. Chris uses a full-western forehand grip, has a fast swing style and hits a one-handed backhand.
Brittany: Open level player with a semi-western forehand and a two-handed backhand. She currently plays with the Yonex V-Core 100S.
Sean: 4.5 baseliner using the Head YOUTEK Prestige Pro. Sean has a semi-western forehand, 1 handed backhand.
Karly: 4.0 baseline player currently playing with the Wilson nCode nTour. She hits with a semi-western forehand grip and uses a two handed backhand.
Review date: October 2013. If you found this review interesting or have further questions or comments please contact us: information.en@tenniswarehouse-europe.com.
All content copyright 2013 Tennis Warehouse Europe.