| | | |
| --- | --- | --- |
| Nike Lunar Speed 3 White/Pink Women's Shoe | Price: | |
It's all about moving quickly on court as Nike continues its Lunar series for women with the Lunar Speed 3. Built with an internal fit system that hugs the foot, the shoe provides an exceptional fit, and a carbon fiber shank provides lightweight support. Additional support is provided by the nylon wires of the Flywire system in the upper. Add those aspects to an extremely low-to-the-ground ride from the Lunarlon cushioning, and this shoe delivers speed on the court. This version features a more accomodating fit than previous versions with a widened forefoot and deeper toebox. Always stylish, the Lunar Speed 3 will appeal to the competitive player who craves the ultimate in lightweight performance.
Fit: Length fit is standard. Width fit is medium in the forefoot and narrows in the midfoot. Arch support is medium. Break-in required.
Upper: Synthetic leather for comfort and support. Mesh tongue offers ventilation. Flywire for support. Added toe protection. TPU frame provides torsional stability.
Midsole: Lunarlon foam throughout for flexible, lightweight cushioning. Carbon fiber midfoot shank for stability.
Outsole: Non-marking XDR outsole in a modified herringbone tread pattern provides traction on all court surfaces. Court Motion flex grooves in the forefoot offer enhance flexibility.
Weight: 306 grams (size 8.5)
Color: White / Pink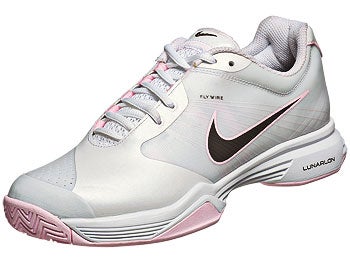 Rollover product image for a larger view.
Please select the newsletters below that you would like to receive.
Nike Women's Shoes

Nike Vapor 9 Tour Grass White Women's Shoes
116,91 €

Nike Zoom Vapor 9 Tour Violet/White Women's Shoe
112,50 €

Nike Zoom Vapor 9 Tour Wh/Ye/Gy Women's Shoe
SRP 129,95 €
Now 89,91 €

Nike Air Max Cage Blue/Squadron Blue Women's Shoe
99,00 €

Nike City Court OMNI VII Wh/Orange Women's Shoe
44,90 €

Nike City Court VII Wh/Blue Women's Shoe
44,90 €

Nike City Court VII Wh/Violet Women's Shoe
44,90 €

Nike Zoom Courtlite 3 Orange/Grey Women's Shoe
76,50 €

Nike Zoom Courtlite 3 White/Silver Women's Shoe
74,90 €

Nike Air Cage Court Lt Purple/Gy Women's Shoe
SRP 69,95 €
Now 54,00 €

Nike Zoom Courtlite 3 Anthracite/Wh Women's Shoe
SRP 84,95 €
Now 59,00 €

Nike Air Court Mo V Wh/Grey Women's Shoes
SRP 59,95 €
Now 35,00 €

Nike Lunar Speed 3 White/Pink Women's Shoe
SRP 129,95 €
Now 86,91 €

Nike Zoom Breathe 2K12 Wh/Silver Women's Shoes
SRP 109,95 €
Now 69,00 €

Nike Air Court Mo V Wh/Pink Women's Shoes
SRP 59,95 €
Now 35,00 €

Nike Lunar Speed 3 White/Scarlet Women's Shoe
SRP 129,95 €
Now 79,00 €

Nike Zoom Courtlite 2 White/Blue Women's Shoe
SRP 79,95 €
Now 45,01 €
| | |
| --- | --- |
| Related Categories | Similar/Competing Products |
| | |