| | | |
| --- | --- | --- |
| Nike Air Court Mo V Wh/Grey Women's Shoes | Price: | |
Built for speed, the Nike Air Court Mo V is a lightweight, supportive shoe. It's nice choice for the player looking for a solid shoe at a great price point. The uppers are made of synthetic leather and mesh, allowing for breathability and playability right out of the box. Air sole unit in the heel provides great shock absorption on even the roughest of landings. We found the herringbone tread pattern to deliver ample traction on the hard courts. Overall, we found this to be an impressive shoe at an even more impressive price.
Fit: Length fits true to size. Width is medium. Low arch support.
Upper: Full grain, synthetic leathers and mesh
Midsole: Full length Phylon midsole. Encapsulated heel air-sole unit in heel
Outsole: GDR with an outrigger for lateral protection
Weight: 300.5 grams (US size 8.5)
Color: White / Grey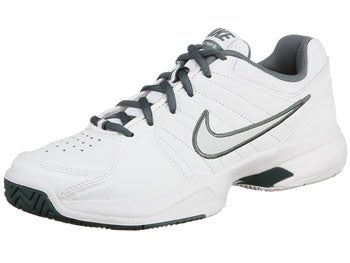 Rollover product image for a larger view.
Please select the newsletters below that you would like to receive.
Nike Women's Shoes

Nike Vapor 9 Tour Grass White Women's Shoes
116,91 €

Nike Zoom Vapor 9 Tour Violet/White Women's Shoe
112,50 €

Nike Zoom Vapor 9 Tour Wh/Ye/Gy Women's Shoe
SRP 129,95 €
Now 89,91 €

Nike Air Max Cage Blue/Squadron Blue Women's Shoe
99,00 €

Nike City Court OMNI VII Wh/Orange Women's Shoe
44,90 €

Nike City Court VII Wh/Blue Women's Shoe
44,90 €

Nike City Court VII Wh/Violet Women's Shoe
44,90 €

Nike Zoom Courtlite 3 Orange/Grey Women's Shoe
76,50 €

Nike Zoom Courtlite 3 White/Silver Women's Shoe
74,90 €

Nike Air Cage Court Lt Purple/Gy Women's Shoe
SRP 69,95 €
Now 54,00 €

Nike Zoom Courtlite 3 Anthracite/Wh Women's Shoe
SRP 84,95 €
Now 59,00 €

Nike Air Court Mo V Wh/Grey Women's Shoes
SRP 59,95 €
Now 35,00 €

Nike Lunar Speed 3 White/Pink Women's Shoe
SRP 129,95 €
Now 86,91 €

Nike Zoom Breathe 2K12 Wh/Silver Women's Shoes
SRP 109,95 €
Now 69,00 €

Nike Air Court Mo V Wh/Pink Women's Shoes
SRP 59,95 €
Now 35,00 €

Nike Lunar Speed 3 White/Scarlet Women's Shoe
SRP 129,95 €
Now 79,00 €

Nike Zoom Courtlite 2 White/Blue Women's Shoe
SRP 79,95 €
Now 45,01 €
| | |
| --- | --- |
| Related Categories | Similar/Competing Products |
| | |