With roots that extend all the way back to the Wilson Ultra and legendary Pro Staff 6.0 85, the Pro Staff 90 is a true classic. This one is built for advanced players in search of incredible feel, rock solid stability and surgical precision. Featuring the ultimate player's specs, the Pro Staff 90 includes a 12+ oz weight, headlight balance, thin beam, leather grip and Wilson's tried and true Graphite/Kevlar Layup. It also has Amplifeel Technology in the handle to filter out some of the harsher vibrations. All told these ingredients add up to an unmatched level of feel, precision and plow-through. From the baseline the control on full swings is simply amazing, as is the unmistakably sublime feel when contact is cleanly made. There's also some penetrating power available to those who can get the mass moving. At net the Pro Staff 90 provides remarkable stability and pinpoint accuracy, with enough weight to punch the ball deep. All in all, this venerable racquet is simply a great option for any serious player who wants to experience the ultimate in precision and stability along with that timeless Pro Staff feel.
Wilson Federer Court 15 Pack Bag
2 rackets plus Wilson Federer Court 15 Pack Bag is 365,71 €. Savings: 41,99 €
Wilson Tour Molded Red/Wh 15 Pack Bag
2 rackets plus Wilson Tour Molded Red/Wh 15 Pack Bag is 349,70 €. Savings: 40,00 €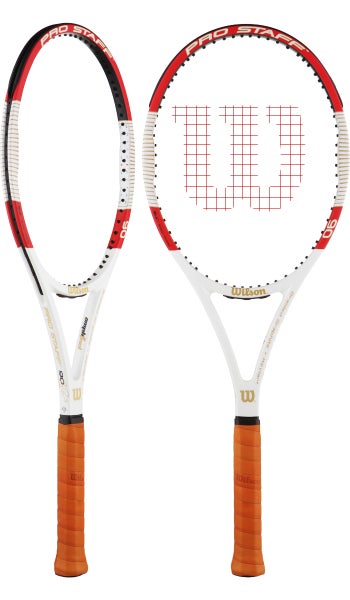 Rackets similar to Wilson Pro Staff 90 Racket

Head YOUTEK IG Prestige Mid


The silky smooth response that put the Prestige Mid on the map is back in this IG version. Reclaiming its position in the upper echelon of player's rackets, this one provides a plusher feel from a larger feeling sweetspot compared to recent iterations. Those with the skill and strength to swing this racquet will be rewarded. Strung weight: 349g. Flex: 63 RA. Swingweight: 317 RDC.


Prince Original Graphite Mid


Tennis Warehouse EXCLUSIVE! One of the best all-time traditional rackets. Even at 20yrs. old, it's a tough racket to beat for feel and control. The 93 square inch headsize and open pattern provide feel, control and spin. Perfect for 5.0+ level players.


Wilson Blade Tour 93 2013 Rackets


A plush, rock solid player's racket that strikes a fine balance between stability and maneuverability. Perfect for those who demand maximum precision. Headsize: 600cm². Strung weight: 340g. Pattern: 18x20.


Wilson Pro Staff 6.0 85 Rackets


Tennis Warehouse EXCLUSIVE! The legend returns! A classic player's racket that was formerly used on tour by Pete Sampras, Roger Federer, Stefan Edberg and many more, this is Wilson's most venerable player's racket. Strung weight: 354g. Balance: 10 pts head light.


Yonex VCORE Tour 89 Racket


Another classic player's frame from Yonex! The 574 sq. cm. head provides outstanding control to advanced players with long, fast strokes. Head Size: 89 sq. inch. Strung weight: 343 grams. Flex (RA): 64.