The Babolat Pure Strike Tour gives strong players the ability to crush the ball. This racket's extremely tame and predictable string pattern (18x20) will likely emboldened big hitters to take massive cuts at the ball. And even though this is a very formidable control stick, there's definitely some power available to those who can get its 320 grams moving. From the baseline this one offers more than enough stability and precision to take the ball early and confidently re-direct pace. The stability comes not only from this racket's weight, but also from Babolat's Stabilizer Technology which combines a varied beam shape with strategically placed carbon fibers to keep the racket steadier at impact. At net this racket is unfazed by heavy pace. This one not only has the needed stability to block anything back with ease, but it also packs a nice punch with very accurate placement. On serves the Pure Strike Tour offers exceptional control. It also puts some heavy and penetrating power in the hands of stronger players who can swing it fast. All in all this is a great option for more experienced players looking for a scalpel with some serious plow-through.
Babolat Team Line Bags Neon Red 12 Pack
2 rackets plus Babolat Team Line Bags Neon Red 12 Pack is 339,70 €. Savings: 26,00 €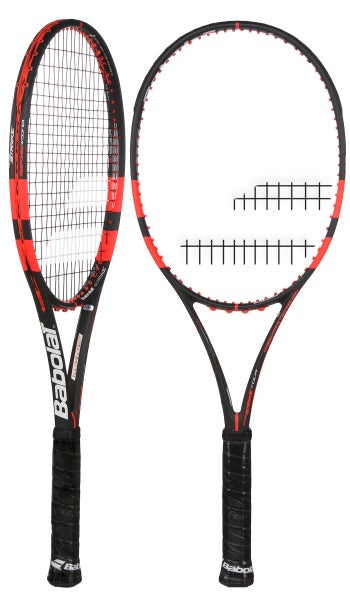 Rackets similar to Babolat Pure Strike Tour Racket

Head Graphene Prestige PRO Racket


Offering a crisp and controlled response, this one rewards clean mechanics with enough power and spin to hit a heavy ball. Headsize: 630cm². String Pattern: 16x19. Standard Length.


Head Graphene Speed Pro


Novak Djokovic's racket of choice. This worthy successor to the IG Speed 18x20 provides the ingredients necessary for aggressive tennis and controlled shot making. A maneuverable player's racket that delivers maximum precision from all areas of the court. Weight: 315g. Standard length. Headsize: 645cm².


Pacific BX2 X Force Pro 18/20 Racket


Offering excellent control and feel, this player's stick with improved Basalt BX2 technology, provides low powered performance from all areas of the court. Headsize: 630cm². Standard length. String pattern: 18x20.


Prince Classic Response 97 Racket (Strung)


A true classic with major plow through. Surprisingly maneuverable for its 340 gram weight, this head light racket offers incredible precision and feel. Standard Length. Headsize: 625cm². String Pattern:16x20


ProKennex Q Tour (325g)


Exceptional control, feel and stability make this a great option for advanced players. The ProKennex Ki Q Tour (325g) offers a great blend of plow through and maneuverability for the all court player. Headsize: 630cm². Pattern: 18x20. Strung weight: 346g


Tecnifibre TFight 325 ATP Racket


This racket offers a great mix of precision, spin, control and feel. A player's racket with impressive maneuverability and maximum directional control. Headsize: 615². Weight: 325g. String pattern: 18x19.


Volkl Organix 10 (325g) Racket


With a new open string pattern to the 10 325g, Volkl offers up a sublime blend of control, spin, comfort, stability, touch and maneuverability. Headsize: 630cm². String Pattern: 16x19. Strung weight: 343g.