Have an Account?
Log In
The Babolat Pure Strike Tour gives strong players the ability to crush the ball. This racket's extremely tame and predictable string pattern (18x20) will likely emboldened big hitters to take massive cuts at the ball. And even though this is a very formidable control stick, there's definitely some power available to those who can get its 320 grams moving. From the baseline this one offers more than enough stability and precision to take the ball early and confidently re-direct pace. The stability comes not only from this racket's weight, but also from Babolat's Stabilizer Technology which combines a varied beam shape with strategically placed carbon fibers to keep the racket steadier at impact. At net this racket is unfazed by heavy pace. This one not only has the needed stability to block anything back with ease, but it also packs a nice punch with very accurate placement. On serves the Pure Strike Tour offers exceptional control. It also puts some heavy and penetrating power in the hands of stronger players who can swing it fast. All in all this is a great option for more experienced players looking for a scalpel with some serious plow-through.
Babolat Aero 12 Pack Bag Bk/Rd
2 rackets plus Babolat Aero 12 Pack Bag Bk/Rd is 365,70 €. Savings: 21,00 €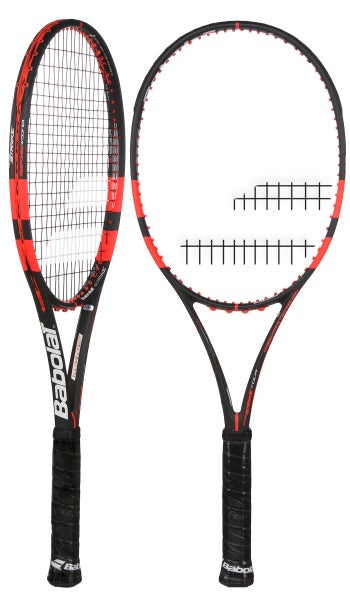 Rackets similar to Babolat Pure Strike Tour Racket

Tecnifibre TFight 325 ATP Racket
This racket offers a great mix of precision, spin, control and feel. A player's racket with impressive maneuverability and maximum directional control. Headsize: 615². Weight: 325g. String pattern: 18x19.