Prince continues the very popular O3 Red with a sleek new cosmetic and a different name, Red LS. From the first shot, it is obvious that this update offers the same uniquely comfortable and dampened feel as the original. With its slightly extended length (27.25"), the Red LS puts impressive momentum and power in the hands of a wide range of players, from strong beginners all the way to advanced players in need of a lighter option. The open 16x19 string pattern supplies all the bite needed to bring the most powerful shots down on target. From the baseline, this one feels fast and fluid, allowing the player to increase pace and spin at will. The response from the stringbed, with its vibration killing O3 Ports, is lively and extremely tendon friendly. At net the Red LS has a lightning fast delivery and a nicely dampened response. Doubles players take note: the extra length and lively stringbed makes for very powerful overheads. The power also shows up on serves where this one puts some serious pace and spin in the hands of aggressive players. All in all, this is a solid and comfortable racquet that will find favor with any player looking to add some comfort and pop to their game.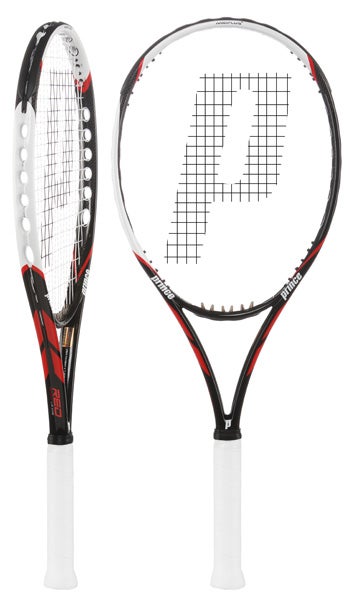 Rackets similar to Prince O3 Red LS 105 Racket

Dunlop Biomimetic S 6.0 Lite


This extended length racquet swings very fast and provides easy access to spin and pace. Stability is pretty impressive for a light racquet. Length: 27.25 inches. Headsize: 105 sq. inches.


Head Graphene Prestige PWR


The iconic Prestige series adds a very maneuverable oversize racquet to the line. This extended length racquet is packed with power, comfort, and spin. Ideal for players with compact to medium strokes. Length: 27.3 inches. Headsize: 107 square inches. Strung weight: 9.7 ounces


ProKennex Ki Q15 (300g)


Powerful, maneuverable, comfortable and offering impressive control, the ProKennex Kinetic Ki Q15 (300g) fits a variety of playing styles from stronger beginners through advanced level players. Headsize: 105sq. in. Standard length. String Pattern: 16x19


Volkl Organix 7 (295g)


Offering controllable power and loads of spin potential, this one is perfect for intermediates and advanced players looking for a speedy racquet that performs equally well from the baseline and net. Headsize: 104 square inches. Standard length. Strung weight: 309.01g.


Wilson Federer Tour 105 Racket


A forgiving racquet with easy access to power and spin. This one is great for beginners or intermediates who want great performance at a great price!


Wilson Five BLX Racket


Comfort meets power in this fast swinging racquet. A great option for the player who wants easy access to dept.