| | | |
| --- | --- | --- |
| Nike Zoom Vapor 9 Tour Bk/Pk/Wh Men's Shoe | Price: | |
Roger Federer's shoe of choice, the Vapor Tour 9 has been completely redesigned from the ground up compared to previous versions. Legendary Nike shoe designer, Tinker Hatfield (famous for his designs on the Air Jordan line including the Air Jordan III through Air Jordan XV basketball shoes) designed this Vapor. The upper features an all-new adaptive fit construction. Finger-like synthetic upper pieces attach to the lace system, allowing the player to customize the wrap of the shoe at six intervals from the forefoot to the heel. The fit of the shoe is designed around Federer's desire for a running shoe like feel with the support and stability of a tennis shoe. A light weight and breathable mesh upper resides underneath the adaptive fit to provide no break-in comfort and excellent ventilation. A full-length phylon midsole with Zoom Air unit provides low to the ground cushioning and a responsive ride. On court the shoe feels light, fast and very comfortable. Support is impressive and very customizable thanks to the adaptive fit system.
Fit: Length fit is true to size. Width fit is slightly wider in the forefoot, snugging up in the midfoot. Arch support fits low. No break-in required.
Upper: Adaptive fit for fully customizable fit and support. Mesh for comfort and ventilation.
Midsole: Full-length pylon midsole and Air Zoom unit for low to the ground cushioning and a responsive ride. Midfoot shank provides chassis stability.
Outsole: Two-piece XDR outsole in a modified herringbone pattern provides traction and durability on all court surfaces. Flex grooves for faster movement and better traction.
Colors: Anthracite / Polarized Pink / Black / White
Weight: 411 grams (size 10.5)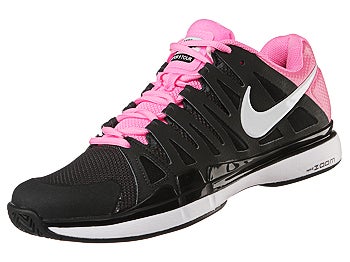 Rollover product image for a larger view.
Please select the newsletters below that you would like to receive.
Nike Men's Shoes

Nike Zoom Vapor 9 Tour Blue/Green Men's Shoe
112,50 €

Nike Zoom Vapor 9 Tour Clay Grey/Orange Men's Shoe
116,91 €

Nike Air CourtBallistec 4.3 CLAY Gy/Or Men's Shoe
112,50 €

Nike Air Courtballistec 4.3 Grey/Orange Men's Shoe
112,50 €

Nike Air Max Cage White/Platinum Men's Shoe
99,00 €

Nike Air Max Challenge Wh/Orange/Grey Men's Shoes
84,91 €

Nike City Court VII Bk/Platinium/White Men's Shoe
44,90 €

Nike City Court VII OMNI White/Red Men's Shoe
44,90 €

Nike Air Max Court Ballistec 4.1 Gy/Or. Men's Shoe
66,50 €

Nike Air Max Court Ballistec 4.1 Wh/Bk Men's Shoe
66,50 €

Nike Zoom Vapor 9 Tour Wh/Gy/Or Men's Shoe
SRP 129,95 €
Now 96,90 €

Nike Zoom Vapor 9 Tour Bk/Pk/Wh Men's Shoe
SRP 129,95 €
Now 96,90 €

Nike Air Max Courtballistec 4.3 Or/Wh Men's Shoe
SRP 129,95 €
Now 84,91 €

Nike Air Max Courtballistec 4.3 Volt/Wh Men's Shoe
SRP 129,95 €
Now 82,89 €

Nike Air CourtBallistec 4.3 CLAY Wh/Bk Men's Shoe
SRP 129,95 €
Now 78,90 €

Nike Air Max Courtballistec 4.3 Wh/Bk Men's Shoe
SRP 129,95 €
Now 79,90 €

Nike Air Max Cage Grey/Black Men's Shoe
SRP 119,95 €
Now 81,90 €

Nike Air Max Cage Grey/Blue Men's Shoe
SRP 119,95 €
Now 79,00 €

Nike Air Max Challenge Black/Red Men's Shoe
SRP 99,95 €
Now 77,90 €

Nike Air Max Challenge Wh/Gn/Bk Men's Shoe
SRP 99,95 €
Now 64,90 €

Nike Air Max CourtBallistec 4.1 Wh/Volt Men's Shoe
SRP 74,95 €
Now 49,90 €

Nike Air Cage Court Wh/Bk/Gy Men's Shoe
SRP 69,95 €
Now 49,90 €

Nike City Court VII Bk/Rd/Gy Men's Shoe
SRP 49,95 €
Now 39,00 €

Nike Zoom Vapor 9 Tour Wh/Sil/Blue Men's Shoe
SRP 129,95 €
Now 89,91 €

Nike Air Max Court Ballistec 4.3 Gy/Bk Men's Shoe
SRP 129,95 €
Now 69,00 €

Nike Air Max Challenge Wh/Red/Grey Men's Shoes
SRP 99,95 €
Now 63,00 €

Nike Vapor 9 Tour White/Black/Red Men's Shoes
SRP 129,95 €
Now 89,00 €

Nike Air Court Ballistec 4.3 Wh/Volt Men's Shoes
SRP 129,95 €
Now 61,00 €
| | |
| --- | --- |
| Related Categories | Similar/Competing Products |
| | |