| | | |
| --- | --- | --- |
| Asics Men's Logo Hoody | Price: | |
Wear this comfy Asics Hoody on or off the court! It features a hood with external drawcord, kangaroo pocket, ribbed cuffs and hem, and screen print Asics logos on right sleeve, left chest and left sleeve.
Content: 80% Cotton, 20% Polyester
Colors:

Black w/White
Blue w/White
Grey w/White
White w/Black

Note: Asics sizing runs slightly smaller compared to other brands. We recommend you to order one size larger than you typically wear.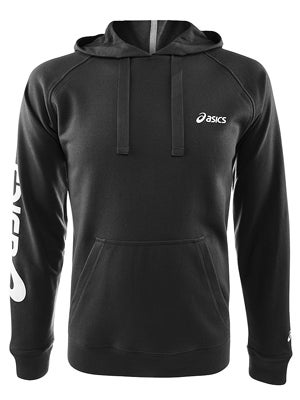 Rollover product image for a larger view.
Other items in Asics Basic Group

Asics Men's SS Logo T-Shirt
17,90 €

Asics Men's Basic Performance Logo T-Shirt
17,90 €

Asics Men's Logo Long-Sleeve Top
22,49 €

Asics Men's Logo Hoody
40,50 €

Asics Men's Logo Sweat Pant
35,90 €

Asics Men's Back Stripe Logo T-Shirt
17,90 €

Asics Men's Stripe Logo T-Shirt
17,90 €

Asics Men's Spring/Summer Performance Logo T-Shirt
17,90 €

Asics Men's Basic Logo T-Shirt
13,49 €

Asics Men's Basic Hoody
35,90 €

Asics Men's Molleton Logo Hooded Jacket
44,90 €

Asics Men's Basic Logo Molleton Jacket
35,99 €

Asics Men's Molleton Trend Hooded Jacket
39,98 €

Asics Men's Trend Pant
31,50 €

Asics Men's Team Sigma Pant
26,99 €

Asics Men's Molleton Pant
31,49 €

Asics Men's Molleton Trend Hoody
SRP 40,00 €
Now 27,50 €

Asics Men's Molleton Jacket
SRP 40,00 €
Now 24,50 €

Asics Men's Logo T-Shirt II
SRP 15,00 €
Now 10,50 €

Asics Men's Molleton Basic Hooded Jacket
SRP 45,00 €
Now 32,50 €
Check out all Asics Men's Apparel